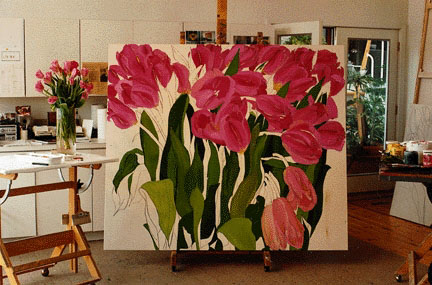 Producer/Director : Donna Davey
Writers: Donna Davey / Judith Cockman
Cinematographer: Robert Brooks csc
Editor: Robert Megna
Helen Lucas . . . Her Journey – Our Journey
Chicago International Film Festival Gold Medal Award
for BEST DOCUMENTARY – 1996 ARTS/HUMANITIES
Enjoy the journey into a celebration we all can share!
An intimate portrait that traces the life and work of celebrated Canadian artist, writer
and feminist – Helen Lucas. Her work moves from dark sombre black and white figures, women
mummified and silent, through humorous drawings of men and women forever locked into their
sex roles, to angels who refuse to be angelic. Eventually, the work, which always reflects her life,
moves to an explosion of joyous colour on huge canvases.
" One of the most revealing and moving pieces of television I've seen this year – the story
of an artist who overcame the numbing repression of being a woman in a patriarchal society.
Every stage of her journey out of the man-cast shadows is vividly documented in her art."
Peter Trueman – Toronto Star Week 1996
" Donna Davey has produced a quite remarkable profile of painter Helen Lucas that
firmly places the Canadian artist in the texture of her times . . . an explosion of images and thoughts
that never stops moving as it treats the painter and her images as one."
Jim Bawden – TV Worth Watching, Toronto Star
" You don't have to know the powerful paintings of artist Helen Lucas
to gain something from this finely wrought documentary."
Christopher Harris – Globe & Mail
" The curve that is traced in this compelling and powerful documentary is the
curve that can be traced in many of our lives."
Prof. Shelagh Wilkinson – York University
To Purchase a copy of the Video, Please Contact:
Donna Davey
Tel: (416) 961-4833
email: donnadavey@rogers.com